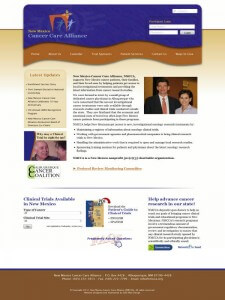 The New Mexico Cancer Care Alliance was a great website development project that offered many challenges. The layout and design were based on the organization's current marketing material. With it's custom drop-down animated menus and participant login area featuring custom programming and advanced data management, LDD Web Design was able to create a marketing tool for our client that is also a powerful administrative functions for disseminating and collecting data.
New Mexico Cancer Care Alliance, NMCCA, supports New Mexico cancer patients, their families, and their loved ones by helping patients get access to local investigational treatments and providing the latest information from cancer research studies.
NMCCA is a nonprofit 501(c)(3) that helps New Mexicans get access to new, investigational oncology research treatments by:
Maintaining a registry of information about oncology clinical trials.
Working with government agencies and pharmaceutical companies to bring clinical research trials to New Mexico.
Handling the administrative work that is required to open and manage local research studies.
Sponsoring training sessions for patients and physicians about the latest oncology research findings.
Website Development Services
We offer a full spectrum of Internet related services for businesses of all types and sizes. Our firm is committed to facilitating the growth and success of each of our customers. LDD Web Design can design a results oriented web site for your company, or redesign an existing site. We can troubleshoot problems, recommend viable solutions, help you promote your site to target audiences, and more…