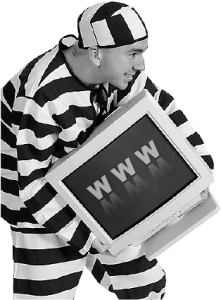 This month we would like inform and warn you about "Domain slamming" or the illegitimate transferring of domain registration from the current service provider to a new provider in the guise of a domain renewal, typically accompanied by hidden fees and often at much higher rates than the consumer is currently paying. These fraudulent solicitations usually come in the form of mass mailings or emails with the words "Domain Name Expiration Notice" in bold lettering across the top.  They often contain language designed to make it seem like the consumer is in immediate danger of losing their rights to their current domain name. This is a deliberate attempt to make the consumer believe that they are receiving a renewal notice form their current service provider when in fact by responding to the solicitation the customer is unwittingly authorizing the account to be moved to another company altogether.
In 2003 The Federal Trade Commission reached a settlement with Domain Registry of America, Inc., a reseller of domain name registration services based in Ontario Canada that had been employing these misleading tactics to trick consumers into transferring their domain name registrations. Since then, the company has changed some of the wording in the letters. However, customers are still being confused and at times unwittingly transferring their accounts.
Protect Your Domain Name
There are a few actions you can take as a consumer to protect yourself from these dishonest practices.
Never share any of your account or personal information with a company that claims to be renewing your domain name.  If it were a legitimate renewal the company should already have this information.
Contact your current service provider.  Don't use the contact information from the solicitation as this will probably result in exposing yourself to a trained sales person bent on getting you to transfer your domain name services.
Keep informed about who your current registrar is and when your domain names are coming up for renewal so that when these dishonest solicitations appear you can confidently disregard them.
If you have been victimized by this practice, contact your current registrar as soon as possible so that they may reject the transfer request.  Also contact your bank or credit card company to stop the payment. This will further ensure that the transfer does not go through.