Picking the Right Platform for Your Website
Part 3 of our 10 Part Informational Series -WordPress as a Content Management System
WordPress is one of the worlds most popular content management systems (CMS) and is an elegant, well-architectured personal publishing system. Whether you intend to keep up with your website updates and changes or hire a website maintenance team, WordPress is the perfect choice for an easy to use and maintain Content Management System.
This article discusses the differences between WordPress.com and WordPress.org.
---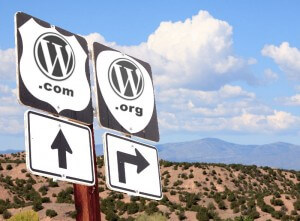 If you've decided to set up a blog or a website using a content management system, then the odds are you've considered or selected WordPress. WordPress is an unbelievably powerful, simple to use, and totally free CMS that powers millions of websites across the Internet, including websites of some very large and very successful companies.
What a lot of people don't realize is that WordPress comes in two varieties. WordPress.org is the "self-hosted" version of WordPress – the one that needs to be installed and hosted by the site owners. WordPress.com is a fully hosted version – where the hosting is provided and taken care of by WordPress at no charge. The two are very similar, yet there are some important differences. So which one is the right choice? Let's examine the benefits and drawbacks of each.
WordPress.com
WordPress.com is the fully hosted version of the WordPress platform. This essentially means that it requires absolutely nothing to create a website on WordPress.com other than an account. No hosting is required, as WordPress.com sites are all hosted by WordPress. Not even a domain name is required, as sub-domains are provided for free in the form of "sitename.WordPress.com"
This is the obvious benefit to using WordPress.com. From a cost perspective, everything needed to create and run a website is completely free. For those who want their own domain name, any purchased domain can be used without the need to pay for hosting as well. The other major benefit is that for those who aren't technically inclined, no installation or technical knowledge is required to create and operate a site on WordPress.com.
The major downsides to WordPress.com is a lack of customization and the inability to add advertising outside of the option provided by WordPress. From a customization standpoint, WordPress.com offers far fewer options than WordPress.org, with a limited number of themes available, and no ability to add plugins. CSS changes can be made, but the platform is much more limited from a design and add-on standpoint than WordPress.org.
Advertising options are a big drawback for WordPress.com as well. The terms and conditions do not allow the use of ad networks like Google AdSense. WordPress.com does offer its own proprietary ad network, called WordAds, but it's only available to certain WordPress.com sites based on traffic numbers and content.
WordPress.org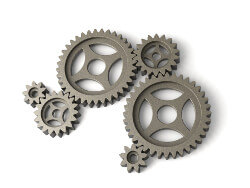 WordPress.org – the fully hosted version of WordPress – operates essentially the same way as WordPress.com, but opens up a whole world of options that doesn't exist with WordPress.com hosted websites. WordPress.org gives site owners full control of their websites, a huge number of themes and plugins to choose from, and unlimited advertising options.
Customization of websites built with the installed and hosted version of WordPress is essentially limitless. The code is an open source, making everything customizable. This means that for those with knowledge of coding, or the curiosity to dig in and learn, WordPress sites can be tweaked and twisted to do just about anything. For those who just want things as simple as possible, creating content with this version of the platform is just as easy as it is with WordPress.com.
The number of ready-to-install options that exist for WordPress.org based on sites is mind boggling. Thousands of themes exist, both free and paid, providing different looks and functions that can be installed and changed with a few clicks of a mouse. Likewise, there are countless plugins that can be installed just as easily, opening up a huge number of added functions, from e-commerce, to membership site back ends, and more.
While advertising options on WordPress.com are severely limited, self-hosted WordPress sites give site owners free reign over what ad systems they choose to use. Many themes even have special functionality built-in to make it easier to install and run a number of different types of ads. This is especially attractive for those who want to use their websites to generate advertising revenue and don't want to be limited to the WordAds system.
One of the few downsides to WordPress.org is that it requires users to download the WordPress file set and install the platform. For anyone comfortable with creating a database or changing a few lines of code, this is no big deal. For those that aren't, many web hosts now offer one-click WordPress installs that don't require users to tinker with the files at all. Cost is the other downside, since a domain name and hosting are required to self-host WordPress. However, with hosting available for as little as a few dollars each month, and domains well under $10, the costs are minimal.
Which version of WordPress to choose?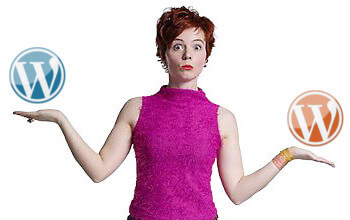 In the end, choosing between a fully hosted WordPress.com site and a self-hosted WordPress.org site comes down to a trade off between features or simplicity. For those who are comfortable with a little extra complexity, a little extra cost, or wish to have access to the maximum functionality the platform offers, WordPress.org is undoubtedly the better choice. The huge number of options and features it offers more than make up for the small additional cost.
For those who wish to keep things as simple as possible, want to avoid any kind of technical work, and don't mind giving up some functionality in the name of ease of use, WordPress.com is the better choice. It still offers the option to use a purchased domain name, and advertising isn't out of the question, but it allows users to create content and manage their site with the maximum of ease.
Whichever version of the platform is chosen, the core functionality is essentially the same, and both versions offer the ability to add and edit content with incredibly ease. That ease of use makes WordPress one of the most popular content management systems available, and promises to make creating and managing a website easier, regardless of which version a website owner chooses to use.